Hort Americas Corporate Newsletter  |  October 2016
Greetings ,
Hort Americas' special projects manager Tyler Baras is using a 12,000-square-foot hydroponic greenhouse to teach company staff and customers what it takes to economically grow leafy greens and herbs.
Hort Americas retrofits greenhouse for trialing hydroponic growing systems, products
Tyler Baras is a well-traveled grower. He has worked in Florida and Colorado growing hydroponic greenhouse vegetables, including organic crops. He is now taking the knowledge and experience he has gained from those growing operations and putting it to use in a 12,000-square-foot demonstration and research greenhouse in Dallas, Texas.
Baras, who is the special projects manager at Hort Americas, is overseeing the trialing of leafy greens and herbs in five different production systems along with the testing of potential products for the company's online catalog.
— PRODUCT UPDATES —
Substrates for vegetable and ornamental crops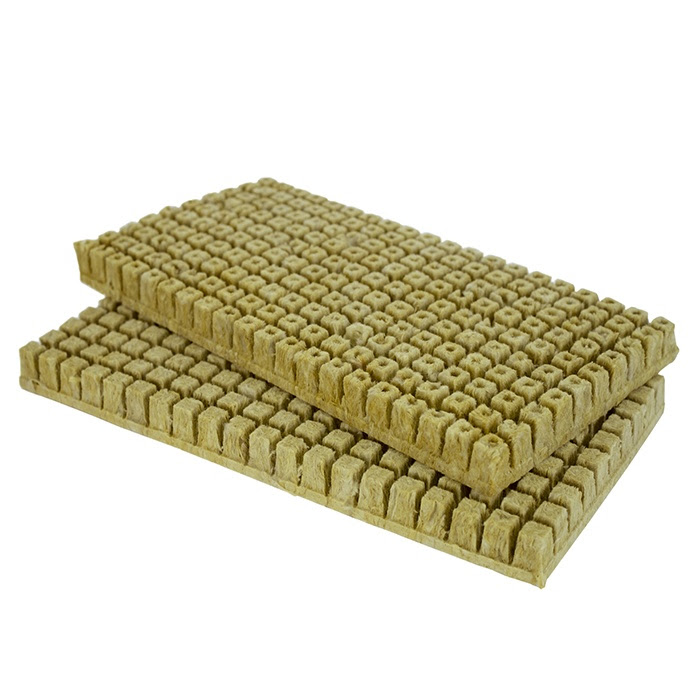 Grodan AO and AX rockwool cubes are suitable for the production of a wide range of edible and ornamental crops. Available from Hort Americas, these rockwool cubes can be used to produce vegetables, including tomatoes, lettuce, as well as ornamental and even aquatic plants.
Grodan's rockwool cubes are specially designed for irrigation efficiency and uniformity. The cubes do not tie up water or nutrients, ensuring these are continually available to the plants. This enables growers to easily control plant growth to achieve higher yields.
The cubes are arranged in sheets that make propagating and transplanting easy. The compostable cube sheets fit easily into standard 1020 flats.
Hort Americas also offers several Riococo coir substrate products, including the OMRI-certified Riococo Closed Bottom Organic Plugs. These organic coir plugs work in a wide variety of production systems, including 1020 trays, grow bags, nutrient film technique (NFT), raft systems, aquaponics and aeroponics. Available in 25-, 32- and 42-mm sizes, the plugs are ideal for the production of leafy greens and culinary herbs.
Lighting for controlled environment agriculture
GE Arize Lynk produces the light intensity needed for typical indoor growing applications, including growth chambers and rooms, greenhouses, hydroponic, aquaponic and aeroponic facilities and vertical farms. These easy-to-install fixtures are available in 4- and 8-foot LED light bars. The fixtures can be daisy-chained from end to end to reduce costs and time. Three (red/blue, pink and white) light spectrums are available. Arize Lynk is a LED system designed to facilitate indoor farming by providing the most suitable spectrum of light in a uniform pattern for even plant growth. The fixtures can operate in a temperature range of 32°F to +104°F.
GE Arize Life is a LED replacement for fluorescent lights used in tissue culture labs or in growth chambers. Available in 2-, 4- and 8-foot light bars, these lights offer all of the LED advantages of longer life, energy savings and lower maintenance. The lights can be daisy-chained end to end making installation easier and faster. The fixtures can operate in a temperature range of 32°F to +104°F.
Horticoop and Hort Americas team up to offer high quality products, product knowledge and customer service
Horticoop BV, parent company of Texas-based Hort Americas, is a global provider of high quality fertilizers and trace elements for commercial greenhouse flower and hydroponic vegetable producers worldwide. Together they bring years of knowledge and experience needed to offer and support a wide variety of customers in the United State and other parts of North America.
Orders are delivered from stock or shipped straight from the manufacturers to the grower's site. Horticoop only works with trusted manufacturers that have proven track records of providing consistent, high quality products.
For more information, please contact Hort Americas and Horticoop at infohortamericas@gmail.com.
Target to trial vertical farms in its stores
In October 2015, Target announced the formation of the Food + Future coLAB, a multi-year collaboration between the retailer, global design firm IDEO and MIT Media Lab. The lab is staffed by bioengineers, students, nutritionists and farmers who are working on the future of food. Their work focuses on urban farming, food transparency and authenticity, supply chain and health. The goals of coLAB are to give people better control over their food choices and to help them to eat healthier.
Some of the concepts being tested by the coLab include: Good & Gather food labeling, providing shoppers with real time nutritional information and operating vertical farms inside Target stores.
Business Insider reports Target plans to incorporate vertical farms into a few of its stores next year. The vertical farms are expected to start with the production of leafy greens with the potential to expand to other vegetable crops.
Read Urban Ag News Issue 15, The Lighting Issue!
We are proud to be a sponsor of Urban Ag News. There are great articles in the latest online magazine issue including the cover story which focuses on the lighting research being conducted at Wageningen University in the Netherlands. Leo Marcelis, head of chair group horticulture and product physiology, talks about how university researchers are studying the effects of LED lights on the growth, flowering and fruiting of vegetable and ornamental plants in controlled environments.
Sincerely,


SPONSOR OF

Connect With Us
2801 Renee St,  Bedford, Texas 76021  United States of America    469-532-2383